A New York City public school principal has asked parents to "reflect" on their "whiteness" passing out literature that says  "white traitors'' who "dismantle institutions," education officials confirmed to New York Post.
East Side Community School in Manhattan, New York features a list titled "The 8 White Identities," which ranges from "White Supremacist'' to "White Abolitionist."
The curriculum was written by Barnor Hesse, an associate professor of African-American studies at Northwestern University in Illinois, alleges, "There is a regime of whiteness, and there are action-oriented white identities.
"People who identify with whiteness are one of these,'' Hesse writes above the eight-point list. "It's about time we build an ethnography of whiteness, since white people have been the ones writing about and governing Others."
The two extreme "identities" of supremacist and abolitionist are such categories as "White Voyeurism'' — defined as "wouldn't challenge a white supremacist, desires non-whiteness because it's interesting'' — and "White Privilege,'' or "sympathetic to a set of issues but only privately; won't speak/act in solidarity publicly because benefitting through whiteness in public (some POC are in this category as well)."
"The Eight White Identities" written by Northwestern University associate professor Barnor Hesse.
The handout was also with a color-coordinated meter with the red zone on the left titled "White Supremacist'' and the green zone on the far right labeled "White Abolitionist."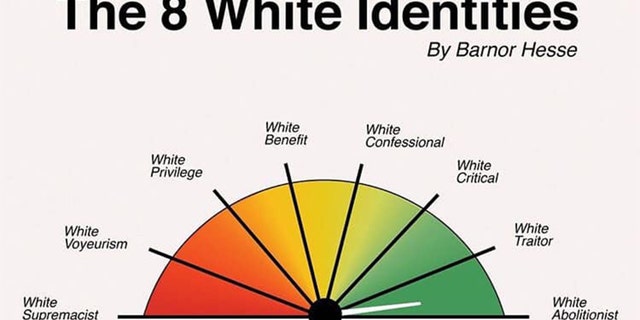 The principal gave it to every parent "as part of a series of materials meant for reflection" and as "food for thought," the official said.
A Department of Education rep said in a statement, "Anti-racism and the celebration of diversity is at the core of our work on behalf of the young people of New York City, and the East Side Community School's students, parents and staff partner together to advance equity in their community.
"The document in question was shared with the school by parents as a part of ongoing anti-racist work in the school community and is one of many resources the schools utilizes."
White man given 1 year sentence after Black acquaintance killed in 2018
Florida Police Officer Fired After Threatening 'Civil War', Posting Racist Rants Against BLM
Black California Man Awarded $60K Settlement After He Was Arrested for Refusing to Give His Name During Police Traffic Stop