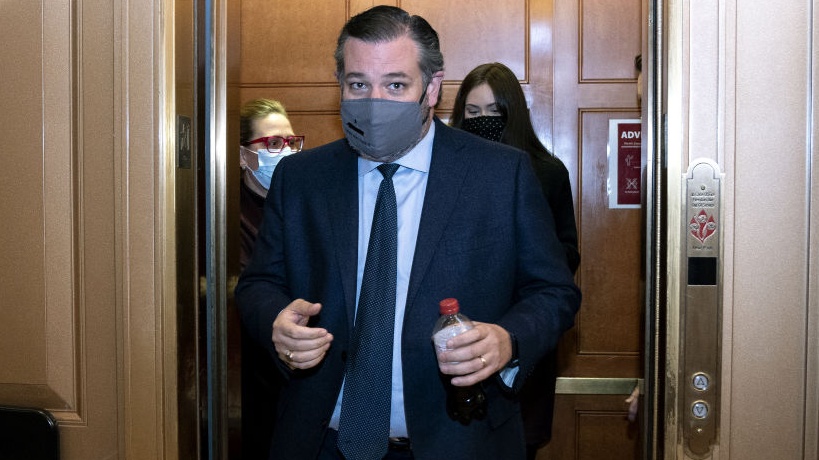 Cruz appeared to have boarded a United Airlines flight traveling from from George Bush Intercontinental Airport in Houston, Texas, to Cancun, according to Newsweek. But it's not clear when the photos were taken. 
Officials in Texas said more than 4 million residents are without power, and they don't know when it will be restored. 
"We have food lines, gas lines, and people sleeping at the neighbors' houses. Our homes are freezing and our lights are out. Like millions of Texans, our family lost heat and power too," Cruz said in his statement. "We want our power back, our water on, and our homes warm. My team and I will continue using all our resources to keep Texans informed and safe."
The controversial trip also comes at a time when the Centers for Disease Control and Prevention (CDC) rates the risk of COVID-19 in Mexico at level 4, The Washington Post reported. 
"Travelers should avoid all travel to Mexico," the CDC stated. 
Cruz "is proving to be an enemy to our state by abandoning us in our greatest time of need," Texas Democratic Party Chairman Gilberto Hinojosa said.
"Ted Cruz jetting off to Mexico while Texans remain dying in the cold isn't surprising but it is deeply disturbing and disappointing," Hinojosa said. "Cruz is emblematic of what the Texas Republican Party and its leaders have become: weak, corrupt, inept, and self-serving politicians who don't give a damn about the people they were elected to represent."
Rep. Colin Allred (D-Texas), whose district includes part of Dallas and its suburbs, also shamed the conservative.
"This is just beyond anything that you would expect – regardless of party – during a crisis like this," Allred said in an interview on CNN Thursday afternoon. "You expect public officials to use whatever airtime they have to tell the truth, to give folks information they need to survive and to help with the recovery."